Collaboration between LIFE EcoTimberCell and LIFE SUPERHERO/LIFE Herotile
Exchange meeting between LIFE EcoTimberCell and LIFE Herotile and LIFE SUPERHERO projects to explore the possible use of HEROTILE tiles in LIFE EcoTimberCell demonstration models.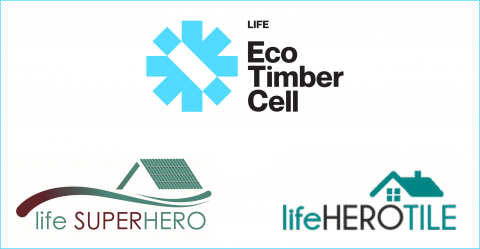 The LIFE SUPERHERO project promotes the innovative concept of passive cooling of buildings and aims to disseminate the use of the ventilated and permeable roofs and HEROTILE-based roofing developed in a previous Life project, LIFE Herotile, in existing and new buildings.
The possibilities of showcasing the joint EcoTimberCell and LIFE Herotile/LIFE Superhero products have interested all participants of these initiatives, so as to demonstrate the application of efficient and innovative climate change mitigation solutions in construction in the European Union, a sector with a very high impact on the level of CO2 emissions in the world. Moreover, these products are already on the market, so it will be a showcase for them.
At the meeting, which was attended by representatives of the Ceramic Centre of Italy (Centre for research and experimentation of the ceramic industry - https://www.centroceramico.it/#) and Industrie Cotto Possagno (manufacturer of the Herotile roof - https://www.cottopossagno.com/), the collaboration between projects was established, whereby LIFE Herotile and Superhero will send samples of the Herotile roof to demonstrate the joint performance of the EcoTimberCell and Herotile products.