LIFE EcoTimberCell visits sawmills to disseminate the Structural Timber Sourcing and Characterisation Guide
The "Guide to the supply and characterisation of structural timber" is a publication that provides knowledge and tools to the forestry and timber construction sector to develop the characterisation of structural timber. Due to its easy reading and abundant graphic material, it can become a very useful reference document for the Galician timber industries and their specialisation.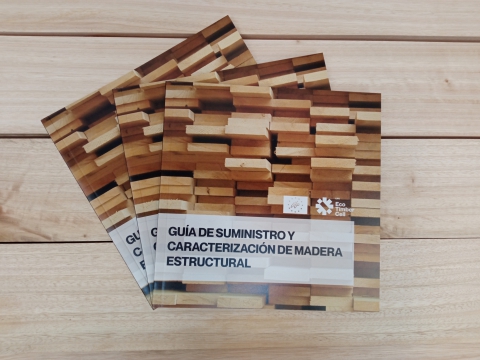 The growing demand for timber for construction requires the involvement of the entire sector to enhance the value of wood as a quality raw material. Galicia is one of Europe's leading forestry powers and the LIFE EcoTimberCell project is committed to certified local wood, supporting sustainable forest management in our forests.
In January, the first visits were made to Galician sawmills to give them copies of the publication. The document has been shared with Maderas Besteiro S.L., Maderas Pedreira S.L. and Maderas Hermanos García Rocha S.L. and the reception has been exceptional, showing great interest in the detailed information on visual classification of wood and the certification process of structural products or less known classification techniques such as non-destructive methods.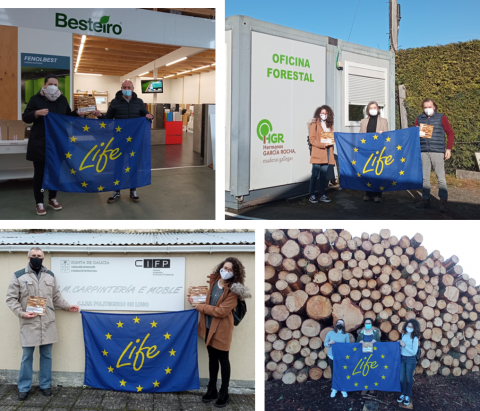 Copies have also been delivered to the Vocational Training of Carpentry and Furniture of Lugo to bring the knowledge about structural timber to future professionals who, during their training, have collaborated in the manufacture of the ETC+ cell.
The importance of wood in the construction of the future is indisputable and the good use of this resource requires knowledge of it. We trust that the "Guide to the supply and characterisation of structural timber" will contribute to this.