New sessions of the EcoTimberCell webinars
On 18 May we will resume the webinars organised in the framework of the LIFE EcoTimberCell project.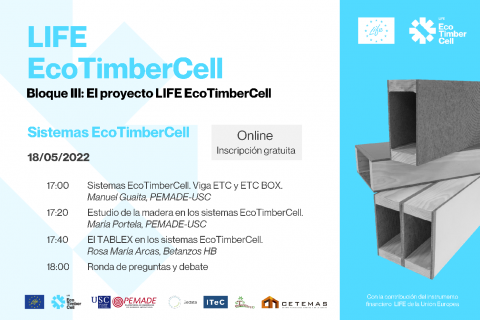 In the first session of the last block of webinars, which will focus on EcoTimberCell construction systems, Manuel Guaita (PEMADE-USC) will present the ETC beam and the ETC Box, María Portela (PEMADE-USC) will talk about the study of the wood used in these systems and Rosa María Arcas (Betanzos HB) will explain the use of Tablex board in these structural products.
As usual, at the end of the day there will be time for attendees to ask questions and discuss the topics covered.
Participate in the webinar by registering at this link: https://docs.google.com/forms/d/e/1FAIpQLSfs4VwejY7-p6obgxNyQBswaI5NgCUaej8NTe4qQBV0ugLX_w/viewform?usp=pp_ur