Participate in the Construction and Calculation course organised by LIFE EcoTimberCell.
Course at the School of Engineering of the University of Santiago de Compostela (Campus Terra, Lugo). Aimed at technical prescribers and calculators, to teach how to build with EcoTimberCell systems and their structural calculation.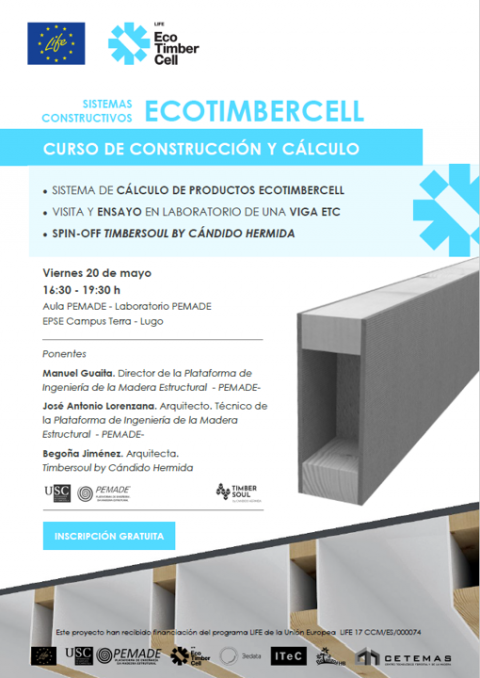 CARTEL CURSO ETC
This course, aimed at architects, architecture students and other technicians involved in the construction process, will take place on 20 May with the aim of disseminating the EcoTimberCell systems among professionals who will be able to prescribe them in their projects, thus helping their implementation in the market.
The Plataforma de Ingeniería de la Madera Estructural (PEMADE) of the University of Santiago de Compostela will be in charge of the presentation of the systems and of training the attendees in the calculation of the structural product; and the spin-off Timbersoul by Cándido Hermida, constituted within the framework of the LIFE EcoTimberCell Project, will teach how to build with this type of systems and their commercialisation.
It is essential that architects know these systems and how to use them in their projects, which requires specialised training in both construction and calculation to provide sufficient confidence in their use.
This course will train technical professionals in the sector, potential promoters of a change in the construction sector, to bet on sustainable technological prefabricated systems, made with local wood from forests with sustainable forest management, thus contributing to the mitigation and adaptation to climate change, and the fixation of population in rural areas.
If you wish to participate in the classroom course, register for free at the following link: https://docs.google.com/forms/d/e/1FAIpQLSfq95dJB8NT1-T020hm_QG_lHne13LgvCaHlP9ecJtZj6KfIg/viewform?usp=pp_url