Webinar "Product certifications" - May 19
We continue with the LIFE EcoTimberCell seminars. Next Wednesday 19 May, from 17h, we will talk about the Certification of wood products.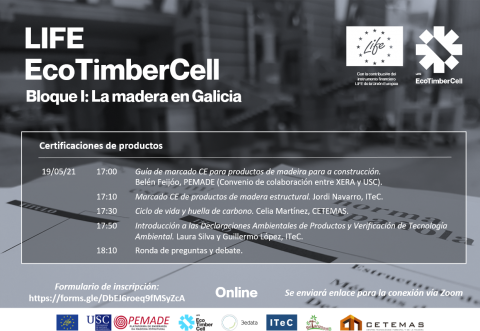 On this day, the project partners will have their say. Belén Feijóo, from PEMADE, will present the CE marking guide for wood products for construction, Jordi Navarro, from ITeC, will talk about CE marking of structural wood products, Celia Martínez, from CETEMAS, will focus her presentation on the life cycle and carbon footprint of wood, and Laura Silva and Guillermo López, from ITeC, will talk about Environmental Product Declarations and Environmental Technology Verification.
As always, at the end of the day, there will be time to clarify the doubts of the attendees and discuss the topics covered.
To participate in the online conference, please register at the following link: https://forms.gle/DbEJ6roeq9fMSyZcA