TimberSoul by Cándido Hermida SL starts in January its business activity
The University of Santiago spin-off TimberSoul by Cándido Hermida SL will start its business activity in January, promoting local certified wood through the commercialisation of EcoTimberCell (ETC) structural products.
With the creation of this company, which is a major milestone for the LIFE EcoTimberCell project, it will contribute to the progressive replacement of products derived from energy-intensive industries in construction, such as concrete or steel, by sustainable elements and materials with a low carbon footprint that contribute to long-term carbon sequestration, such as ETC systems made with certified local Wood, from sustainable forest management.
TimberSoul, whose founding working partners are Andreina Mitsai Vargas Carrión, Begoña Jiménez Urquía and Martín Moreda García-Echave, and which maintains a close link with Pemade through the participation of researchers María Portela and José Antonio Lorenzana, was created with the aim of offering a comprehensive consultancy and marketing service for ecological cellular structural systems.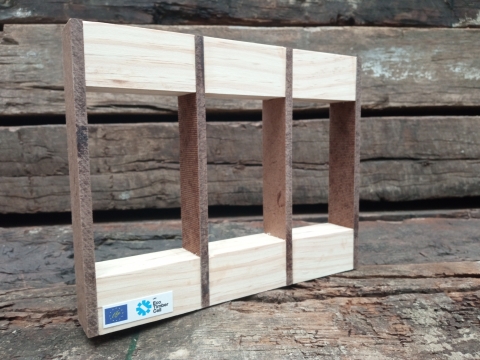 TimberSoul's priorities range from positioning ETC products as synonymous with quality and innovation, promoting and raising awareness of the use of wood as an ecological alternative in construction, providing tools to facilitate the use of ETC products and promoting the transfer of innovation in the timber construction sector. The spin-off will work to connect construction professionals with industrialists specialising in timber construction, with the aim of achieving sustainable constructions that mitigate the effects of climate change.
The company comes at a key moment in which wood construction is growing exponentially and represents an advantage for near-zero consumption building. The competitive edge of EcoTimberCell timber products is based, from a structural point of view, on prefabrication and its lightweight design, and as an active part of the thermal envelope, under the eco label, on the reduction of artificial binders together with the revaluation of raw materials.
The aim of the promoters of TimberSoul by Cándido Hermida SL is not to be a simple product marketer, but to become an active agent in the sector, defender of the environment and a more sustainable construction, thanks to a multidisciplinary technical team with experience in structural timber construction and involved, from research, in the development of EcoTimberCell products.
Once the constitution of the company TimberSoul has been formalised, this new business initiative of technological innovation will establish its headquarters in the industrial estate of Narón, next to the Cándido Hermida group, in order to favour synergies between the different divisions of a business conglomerate specialised in the creation of spaces and installations with wood, metals and new materials.